Welcome to a new article from Wall Street Stock Exchange. This is one of the first series of articles to learn how to invest in the stock market for beginners. In this tutorial I am going to show you how to invest in the stock market with everything you need to start step by step.
We are going to break this down into several parts here within this article so that you can go directly anywhere, but I will try to make this as precise as possible with a comprehensive guide, showing how to invest in stocks in the turbulent times we find ourselves in. in the markets and with many people interested in investing.
1. Introduction to the bag
We are going to solve some of the first questions that people have when starting to invest in the stock market. First, we will talk about the different types of investment.
There are different types of investors, those who do Short-term investments versus invest for the long term. Let's talk about how to actually buy shares in companies. You can use recommendations, then we talk about passive investment. When you buy stocks directly on the stock market, we talk about active investmentWhat kind of investor would you like to be? There are some people who have a great deal of time on their hands and really want to learn the ins and outs of the stock markets while other people just want to do it passively in exchange for commissions.
Passive investment includes all types of funds, mutual funds, index funds, ETFs, bonds ... while the purchase of stocks, CFDs, cryptocurrencies, indices ... has to do with active investment.
We end up solving the question of how much money should i start with. Should you go with all your money? Do I always have to diversify my investments? How do I value the shares of a company?
Some tips before you start: try to limit as much risk as possible while increasing the potential reward. And with this last point my warning, the rule number 1 in the stock market, never invest money you depend on, invest only what you can lose.
2. Stock market psychology
The fight of egos plays a fundamental role in investing in the stock market. The only thing I want you to be clear about on this point, and especially if you are starting, is that all investments are made through the real logic of the market and not emotions, euphoria or fear. As a broker, I have seen how the 99% of clients who have lost everything has been due to having emotional strategies. Analyze, think, reconsider and if you are not sure go for the next one.
When a beginner wins they feel smart and invincible. So you take disproportionate risks and lose everything.
I'd like to share a chart that exactly sums up this point: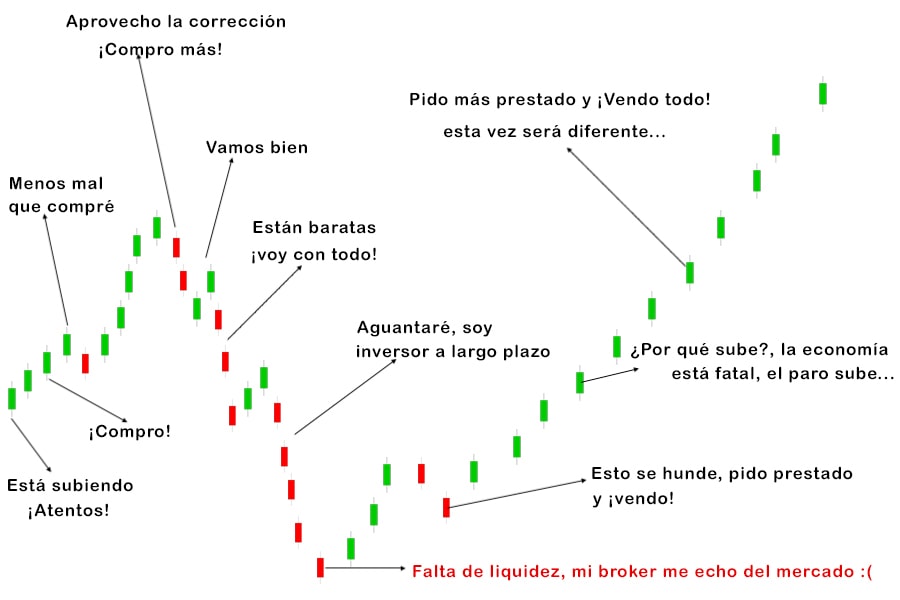 What I want you to learn with this graph is not to make decisions impulsively. Before investing in the shares of a company, do not do it because an analyst, neighbor or stock guru recommends it without knowing anything about said company. Analyze the company, its future projection, its accounts and its long-term profits.
This type of investment is made by one of the greatest investors of all time, Warren Buffett, of which I leave you Warren Buffett's best quotes in this link.
3. Investment strategies
We will start by talking about the different types of investment. Currently there are two main types of investment, the technical analysis and the fundamental analysis.
The technical analysis is the study of a graph, where it is intended through a technical analysis to predict the evolution of said graph, it is a widely used and profitable technique in the 80s, when no one had access to this information in the form of a graph.
The fundamental analysisThis is done in the long term, with the aim of investing in companies whose current valuation and current share price is lower than it should be at that time. The big investors on Wall Street rely on this type of strategy.
Within technical analysis, there are several types of investment that you have surely heard before. At this point we talk about day trading or swing trader, consists of investors who analyze the charts and carry out very short-term operations, most of the time entering and leaving the same day. For this type of operation you need a very large capital to cover commission costs and a lot of time to read the graphs in real time in minutes. Most investors on Wall Street are based on the long term, since it carries less risk and greater probability of success, is what we will base ourselves on in this article.
4. How to buy stocks
I think some people already know how to do this or to be honest you could just go to Google search and type in investment broker and you can find hundreds of companies but one in there is a couple that I really like. Due to their low commissions and because they are the most used worldwide, you have probably already heard of before the eToro broker, I leave you the link to register here, it's free and you can practice before with a virtual money wallet.
There are many others like Renta4, with good support but high commissions. Plus500, with a good number of products to trade, I like FXCM to trade currencies, Degiro with good commissions and platform but few products. All brokers have their strengths and weaknesses, you can investigate to see which broker suits the products or companies in which you want to invest.
5. What is an action
I know some people wonder what an action really is, how does it work? The most basic way to put this in a couple of sentences here is that a stock is a part of a company that you own. So when I bought my first stock of a pharmaceutical company in 2009, and I paid I think it was $ 12 for a share of the shares of this company, I became the owner of that share.
If you buy a stock, that means you own a small portion of this company, you actually own a portion. What can happen here? Depending on the type of company and the amount of shares acquired, you can be invited to the shareholders' meetings. Especially if you own a large number of shares in a company, if you own a share you don't have much to say in a company, but some investors who own the 10 %, 20 % or 30 % have the right to vote on certain issues of the company.
You will also enter into acquiring dividends for the profits produced in the company based on your percentage in shares.
6. Stock investment strategies
What type of investment is improvement for you? This is one of the questions that come to me the most. There is no single type of investment for everyone. The best investment is the one that suits you, each person is different, so each one should invest differently and adjust their strategies in the stock market according to your available time, assets and psychology.
You can get inspired by reading some of the best stock exchange books. You will see that each investor is different and adjusts their strategies to themselves, that is why the great phrase of the stock market gurus selling-smoke "get rich with my strategy" does not work, flee from this type of gurus. Learn all you can, read books, and invest.
7. How to value a company before investing
Now I want you to take out a pen and paper and write down the basic ideas for valuing a company before investing.
There are two valuations to evaluate a company, the qualitative value and the quantitative value. The qualitative value, are all the values that the company marks in the long term, for this, who is its CEO is studied, it is evaluated with the business model, the vision and even the leadership that it possesses.
I will give you an example, with the Facebook company, many investors are cautious, everyone knows the financial or quantitative value that this company has, nobody doubts its finances and growth over time but the one that has had numerous scandals in the past, the theft of data from users and then sell them, unethical practices have had a significant impact on the value of their actions, so qualitative analysis is important.
The quantitative approach focuses more on the numbers and finances of the companies. At this point, you do not need an accounting or financial, I advise you to look for financial information of said company since most brokers have this information. Let's say you are interested in investing in Amazon shares, you are not very sure, so you want to investigate its quantitative status you can go to investor relations report of this company, you can search it on Google, since all reports are public. In the financial report you can evaluate if it is growing, if its sales and income have fallen, etc.
With all this, the aim is to know if the price of a share is overvalued or undervalued. If it is priced above its current market value (overvalued), you have a high probability that the price will tend to adjust downward.
I will not go into measuring this, since it would take us 50 more articles and we have several shortcuts to consult quickly, the one that I personally like the most and use the most is the Buffet index, it is the market capitalization of corporate stocks divided by the nation's GDP, tells us the total prices of the shares compared to how much they are producing in terms of goods.
So that you can see it, I will leave you an analysis of this indicator, currently, the American market is in its very overbought phase, so I already have short positions in the main technology: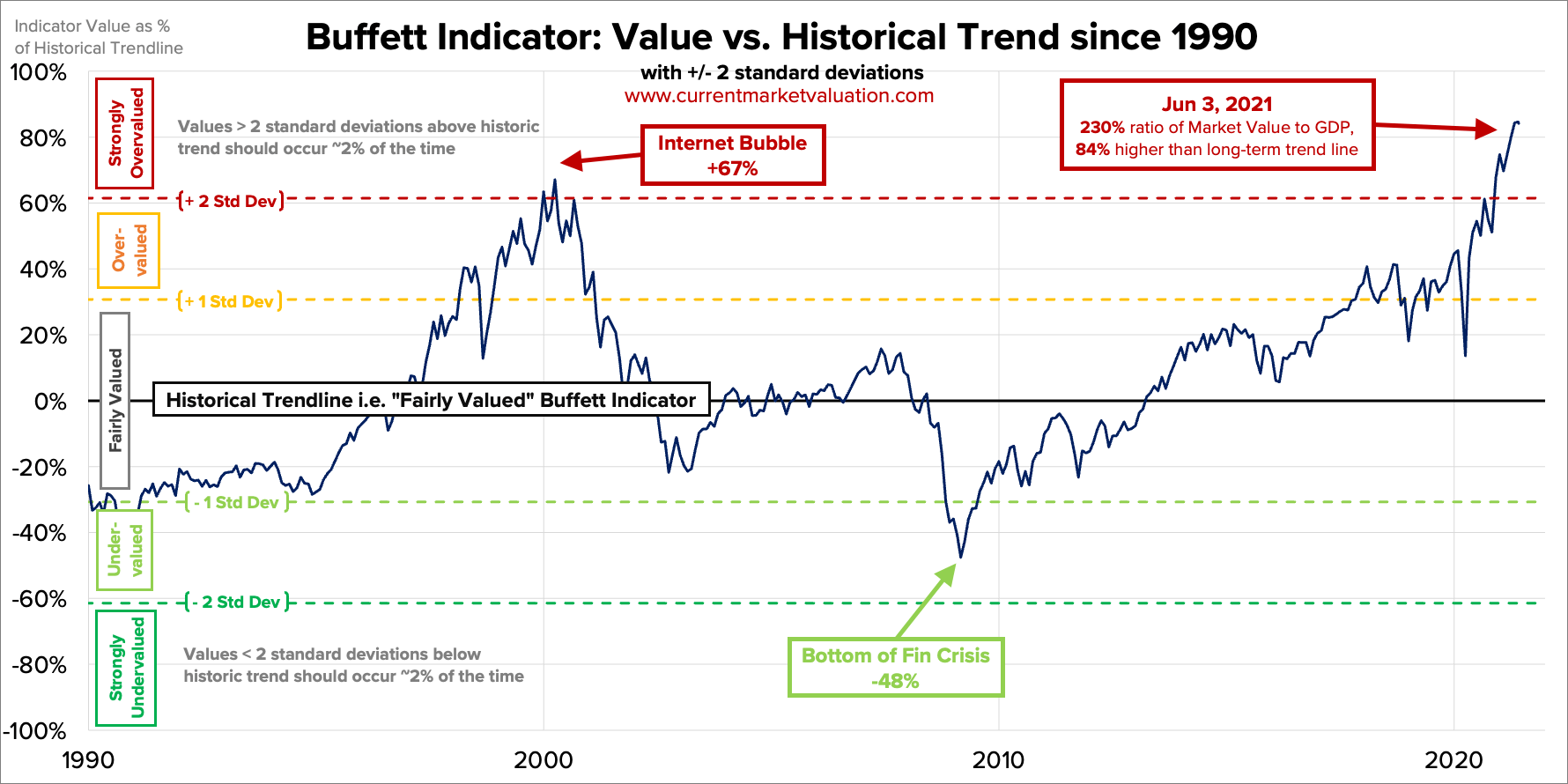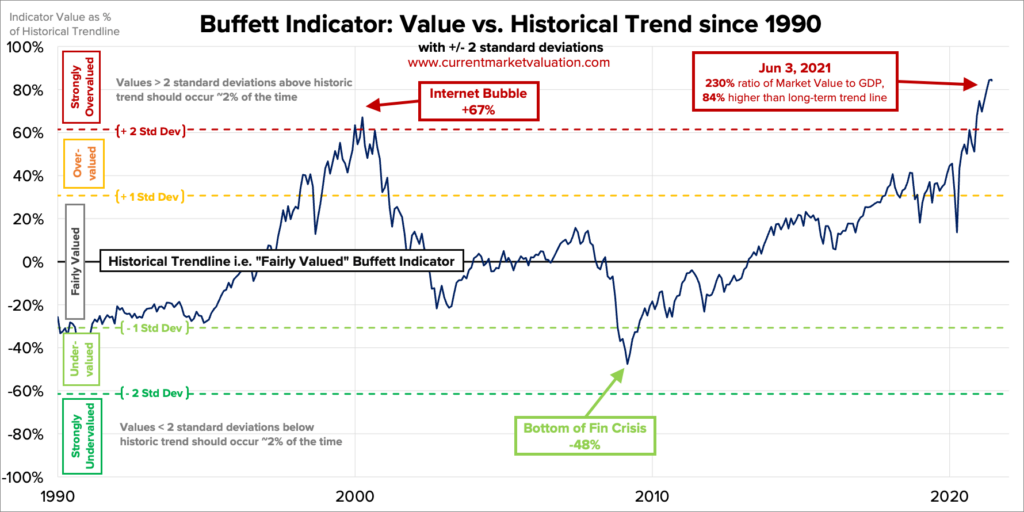 A second method to study overbought and oversold in a security, the most used is the RSI (Relative Strength Index), allows us to identify if the price is overbought or oversold and ranges between 0 and 100.
In any chart of a stock you can insert the RSI indicator to check this, I use the program ProRealTime that generates the graphics at the end of the day for free: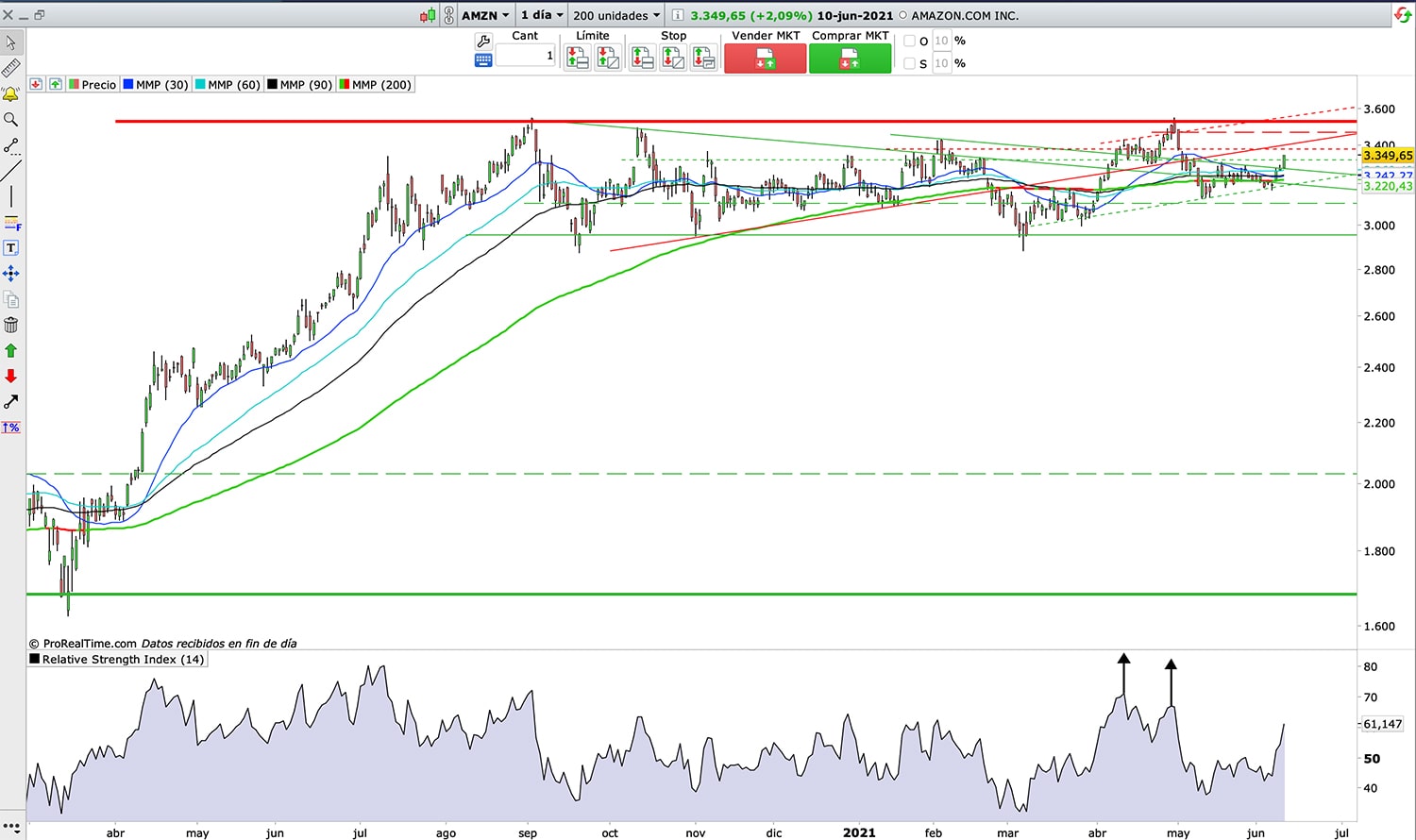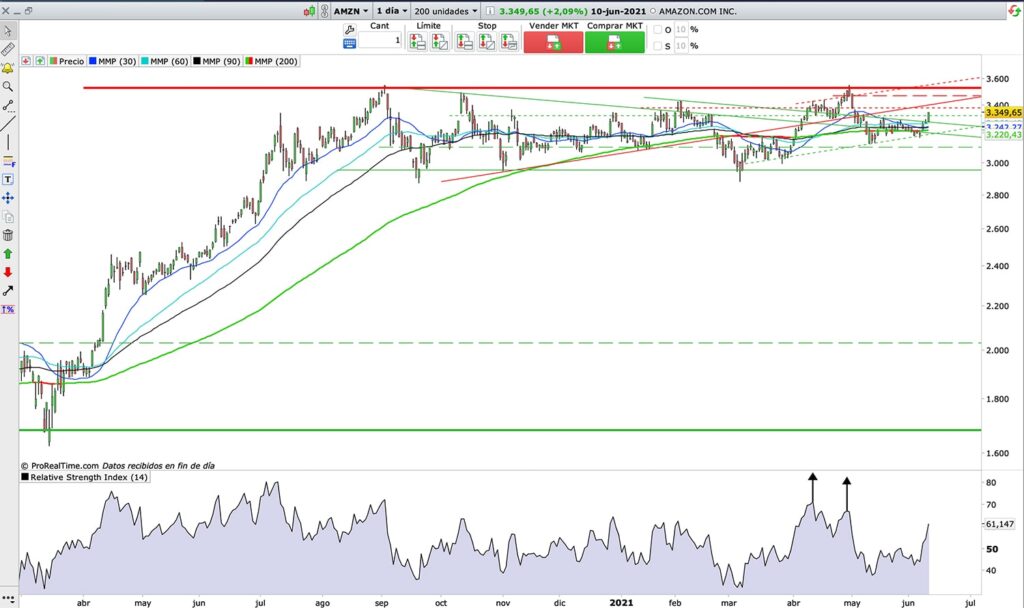 Currently the overbought indicator is above 61 points, I personally like to see signals above 80 points. Of course, this signal must be accompanied by more analysis to strengthen and adjust the probability of success in our operations.
8. How much money should I invest?
First of all, I will say again the rule number 1 in the stock market, invest the money that you do not need. That said, if you are starting, I advise investing small amounts with the aim of learning, never start with a large amount since you will have to make a few mistakes in your beginnings and it is better to make them with little capital.
Once you manage the investment platform and adjust your strategies, you will be able to increase your capital.
In my case, I started investing with € 150, logically I lost everything since the first investments did not know how to launch operations to the market correctly, I did not adjust stoploss. etc. Once I started to handle the platform well and my strategy was quite solid, I increased my capital to € 1000, and so on, always with money that I am saving and do not need, which is about 5 to 10 % of my monthly salary.
If you have any questions that you would like to ask or simply want to thank the information provided in this article, you can leave a comment.