We are currently suffering from a global energy shortage. The focus is on China, where they have begun to suffer this energy crisis. Despite being at the beginning, they have already begun to close Chinese factories and reduce production, so the crisis will soon be exported to the globalized world.
Some of the news coming from China, come from the hand of workers, where they say they have never seen blackouts like the ones they are experiencing in recent days. Power shortages have caused major power outages in blocks of buildings and homes. Factories have also been affected by the power shortage, the Chinese government has asked them to reduce their activity and stop production, thus slowing down their supply chain.
Why is there an energy crisis?
The energy policies that all governments have carried out have been the main causes of our energy shortages. Great efforts in energy saving and paradigm shift to clean energies entail a sacrifice.
Las preocupaciones ambientales han influido en la forma de obtención del a energía. Las presiones políticas para tener cielos libres de polución para los juegos nacionales de China. También nos encontramos cierres de fábricas de carbón por accidentes mortales y la creciente demanda de energía en la industria pesada, bienes raíces y construcción de infraestructura para estimular el crecimiento económico y la recuperación de COVID-19.
How long will the energy shortage last?
Leading analysts agree that it may last for some years. This will make governments grow in renewable energies and put all efforts in the search for new energies.
We are likely to experience unprecedented cost increases in all energy-intensive sectors over the next 2 to 3 years.
¿Dónde invertir con la actual escasez energética? - 2 Oportunidades de inversión
Once again, we see some opportunities in the stock market to invest. With new changes come new investment opportunities, and with the energy crisis, it is no different.
Some of our main recommendations for investment in the coming years come from commodities.
Si nos fijamos en el gráfico general de materias primas "THOMSON REUTERS/CORECOMMODITY CRB INDEX", vemos una clara tendencia alcista tras superar dos importantes resistencias en 200 USD y 207 USD respectivamente.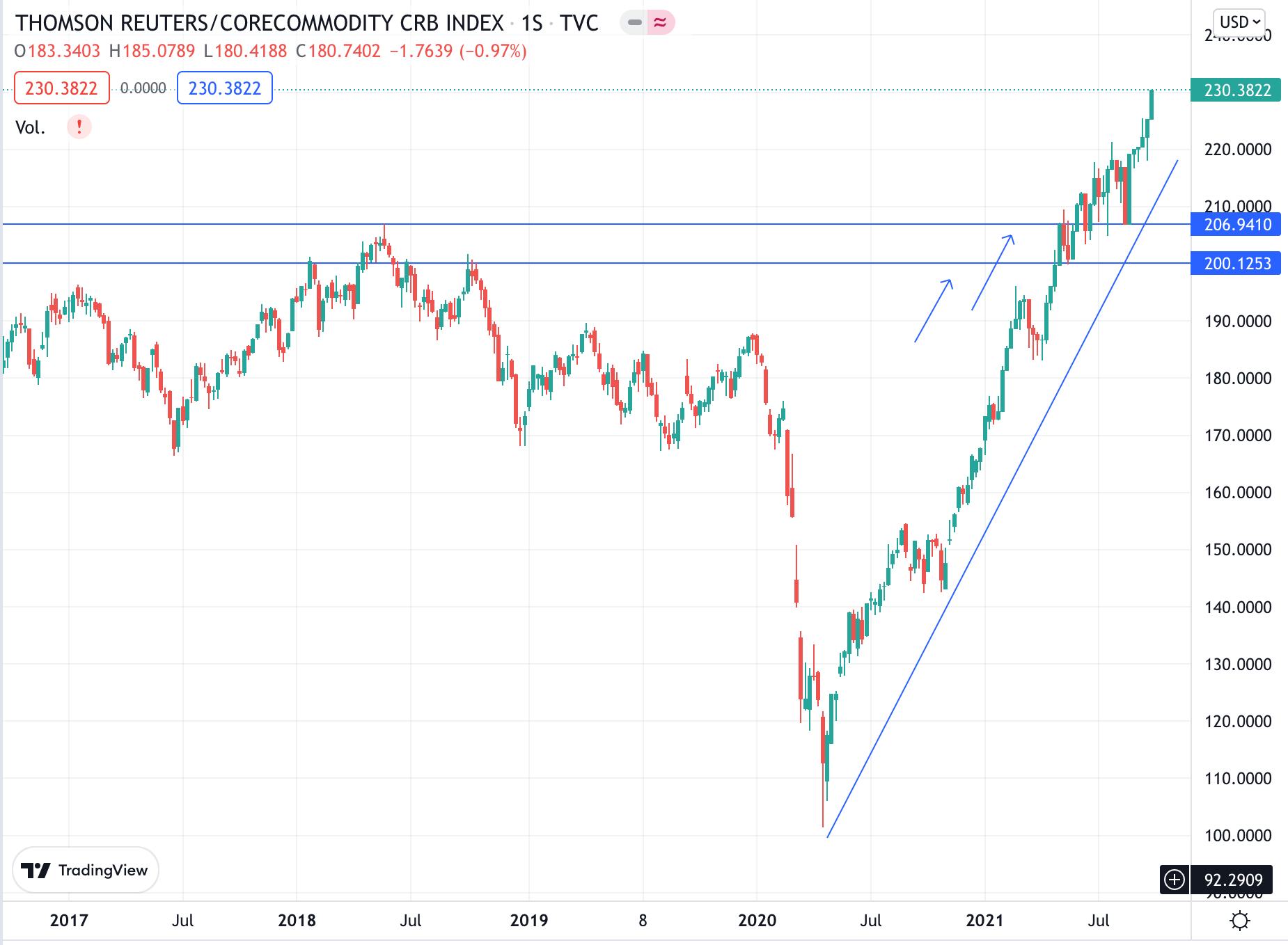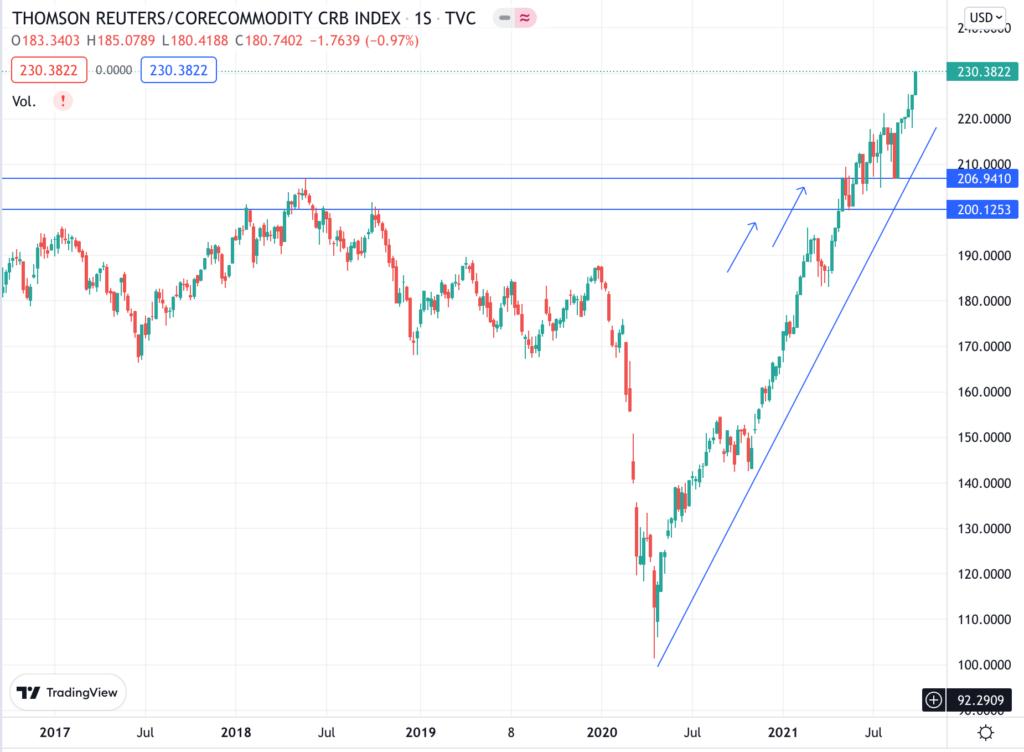 The gold price has been in a sideways range for some time. The bullion companies that own most of the shares in gold cannot liquidate their positions, so when it rises they take paper off, driving the price down sharply on specific days, at the moment it is a good long bet for the very long term, 3-5 years.
The price of aluminum, has soared, reaching record highs. We remain on the sidelines as it is above its intrinsic value.
The first long-term investment opportunity that we currently hold in our portfolio is silver stocks. One of the best opportunities with high probability and which is well below its intrinsic value. A good strategy would be to be long 2-3 years, if we measure its intrinsic value with respect to gold, it gives us quotes that are around more than 200 USD, it could be one of the key points as a target, currently the silver price is at about 22 USD.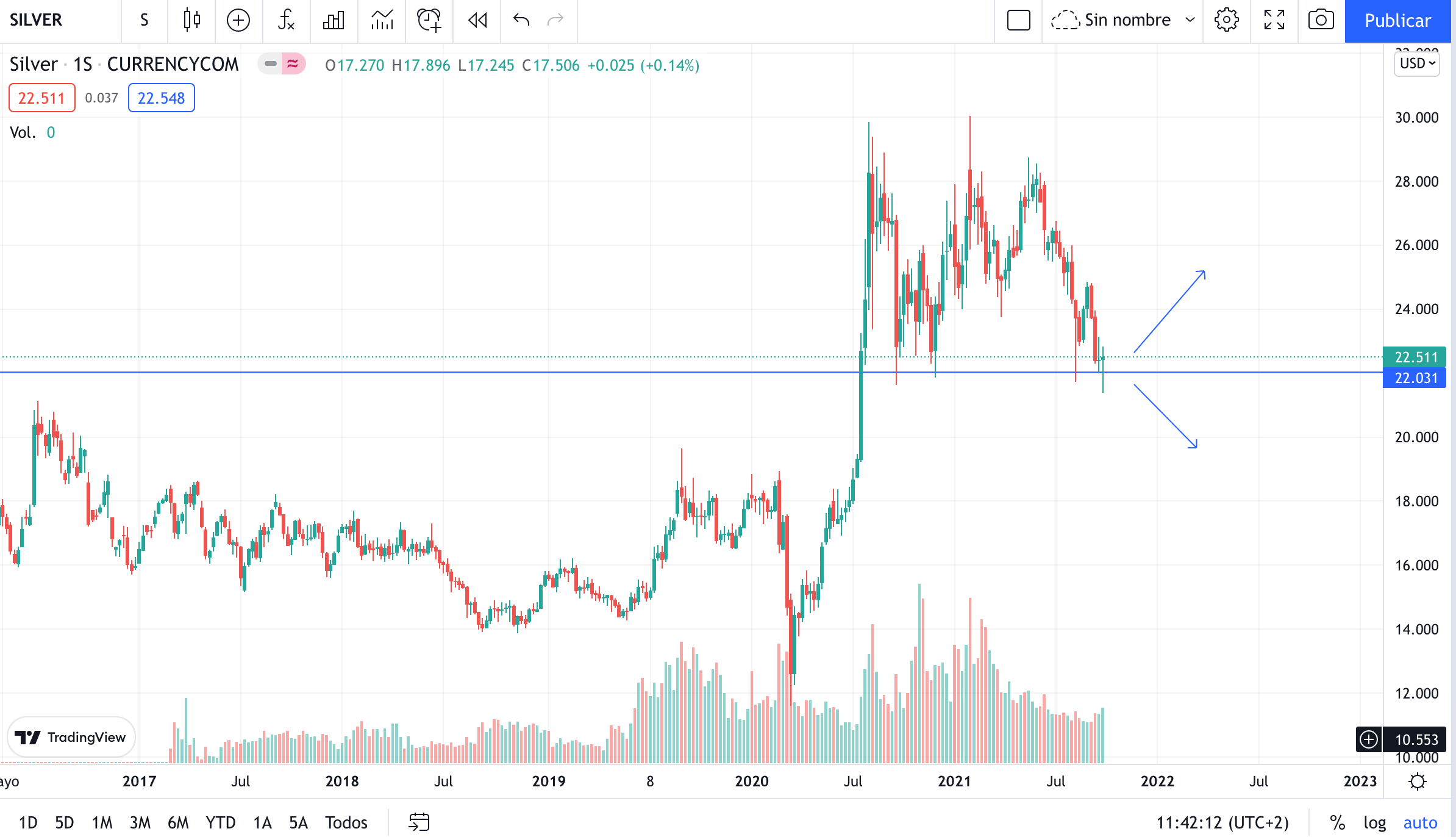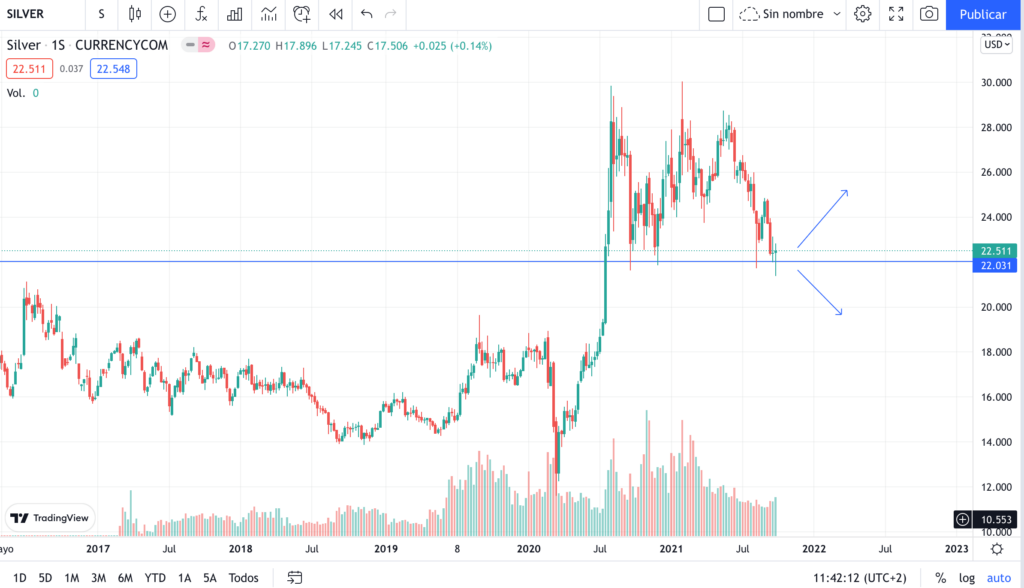 In the chart of the price per ounce of silver, we can see how it is right in the range of 22 USD, a key point to keep in mind as it will become support if the price does not close below 22 USD and resistance if it pierces that price and closes at lower prices.
Other interesting investment opportunities to benefit from the energy crisis would be in any of the major energy companies such as oil and energy companies, ETFs such as the SPDR S&P OIL and GAS which is an ETF that incorporates companies dedicated to the exploration and production of oil and gas, you can also analyze any of the companies that make up this ETF, and that is what we have done, I leave you one of the ones I like the most below.
MARATHON OIL CORPORATION, is an oil and natural gas exploration and extraction company based in the United States. Its main exploration locations are in the United States, Norway, Equatorial Guinea, Angola and Canada.
As shown in the chart, it has currently broken one of the most important resistances and is rising.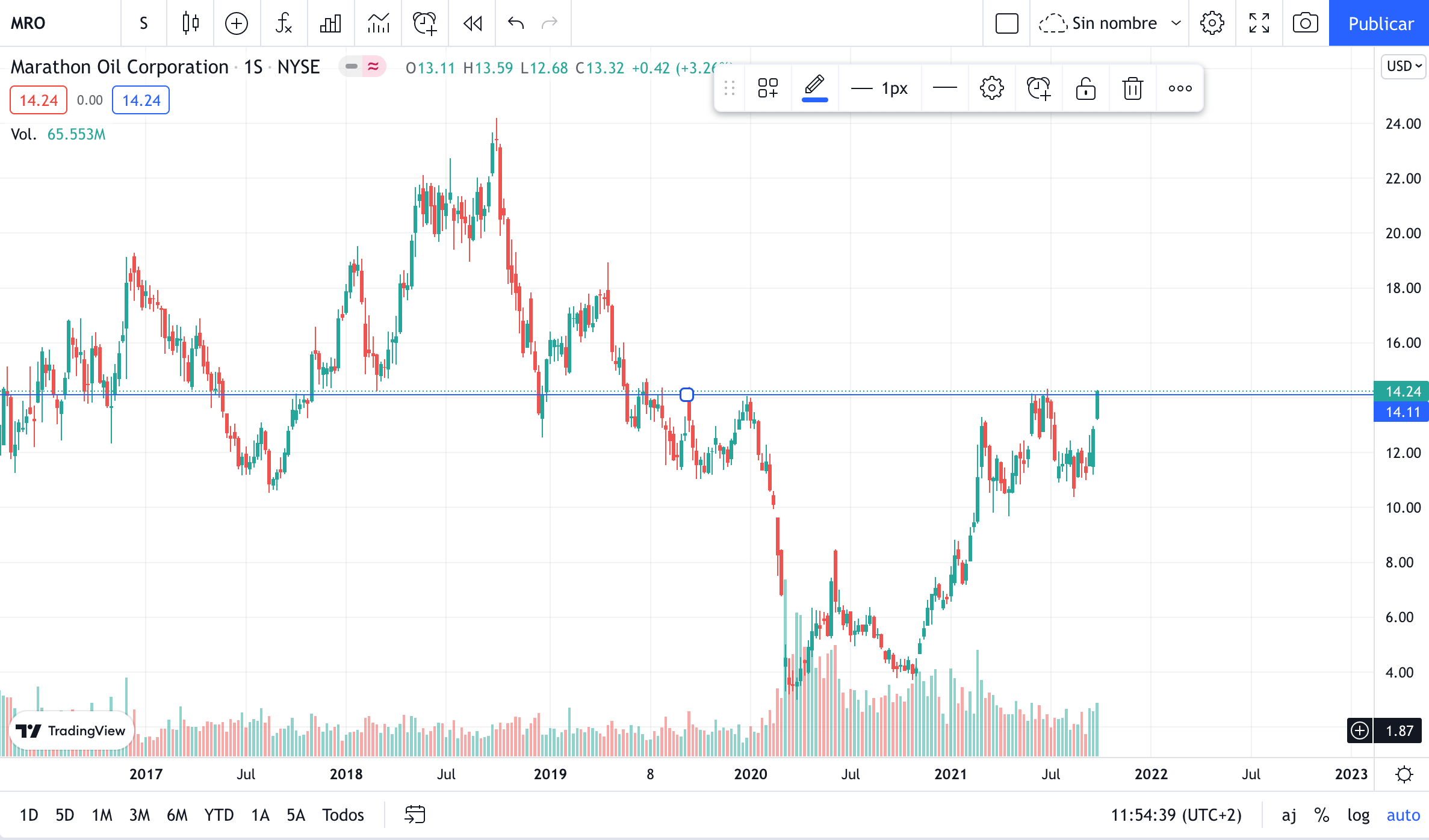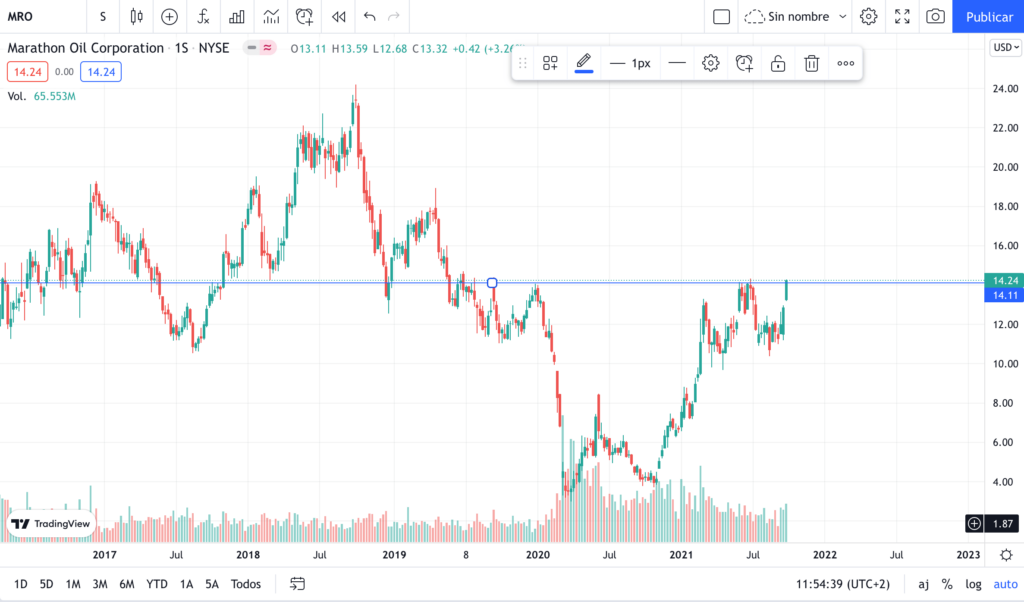 Once the price resistance at 14-14.20 USD has been breached, everything indicates that it is quite likely that it could reach a high of 22-24 USD.
Any doubt, advice or recommendation, you can leave it in the comments. Best regards and good investment week 😉🧐.